When conflict makes money, enemies are also colleagues.
This is a follow up to this older investigation:
PFIZER / BIONTECH AND BILL GATES / CHINA ARE LIKE TWO COUPLES OF SWINGERS IN A PERPETUAL ORGY
We assessed that this chapter needs signaled / highlighted separately, but the above link is essential context.
Except in the process of "doing it", very interesting undisclosed trades have occurred.
An amazing researcher / whistleblower, former pharma and medical device R&D executive Sasha Latypova has recently confirmed and furthered our research on several topics. Here's a fragment from a recent Substack post: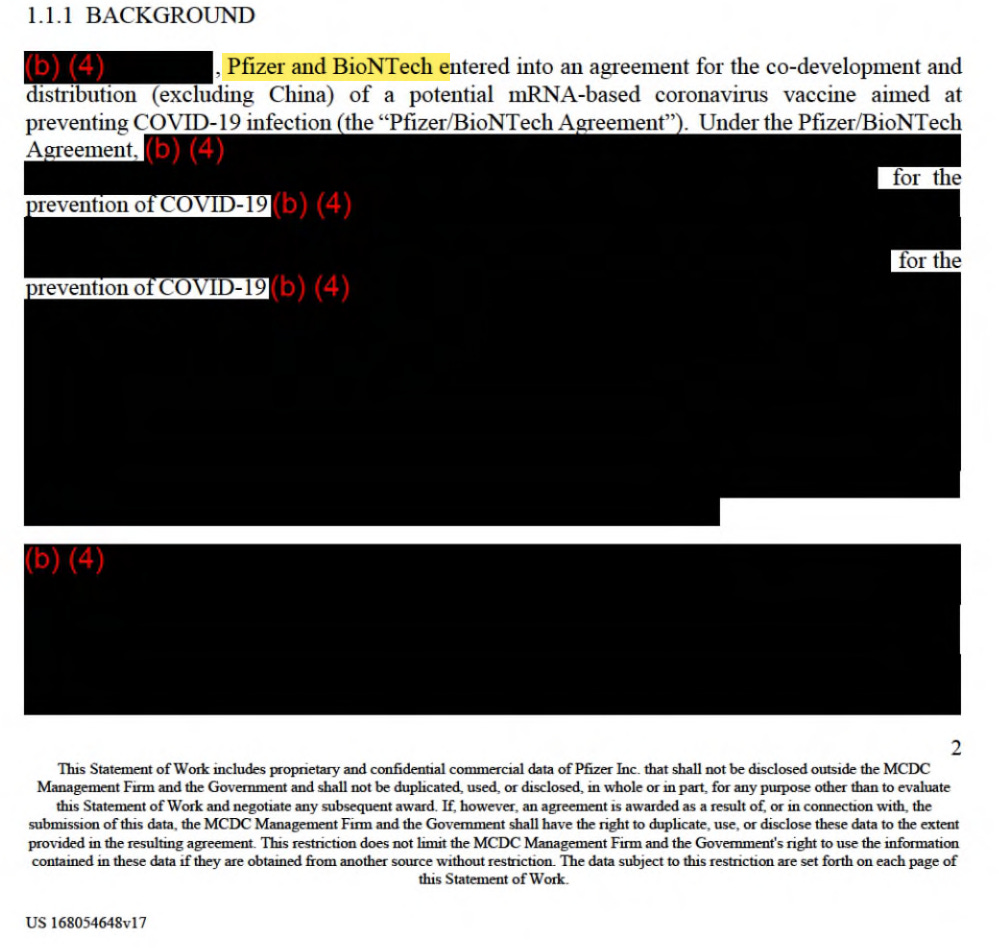 I know what is in the redacted part of the above paragraph and it was not hard to figure out. The first redaction under 1.1.1 BACKGROUND is "Fosun Pharmaceuticals", so the sentence reads "Fosun Pharmaceuticals", Pfizer and BioNTech entered into an agreement for the co-development…"
Note: the only journalist I am aware of in either "mainstream" or "resistance" who mentioned Fosun was Naomi Wolf, kudos to her. I was in touch with The Epoch Times to try to publish this information, and even they decided to bury the story (but they published my other materials). I did discuss this on Dr. Jane Ruby's show, and kudos to her as well for not being afraid to cover the truth.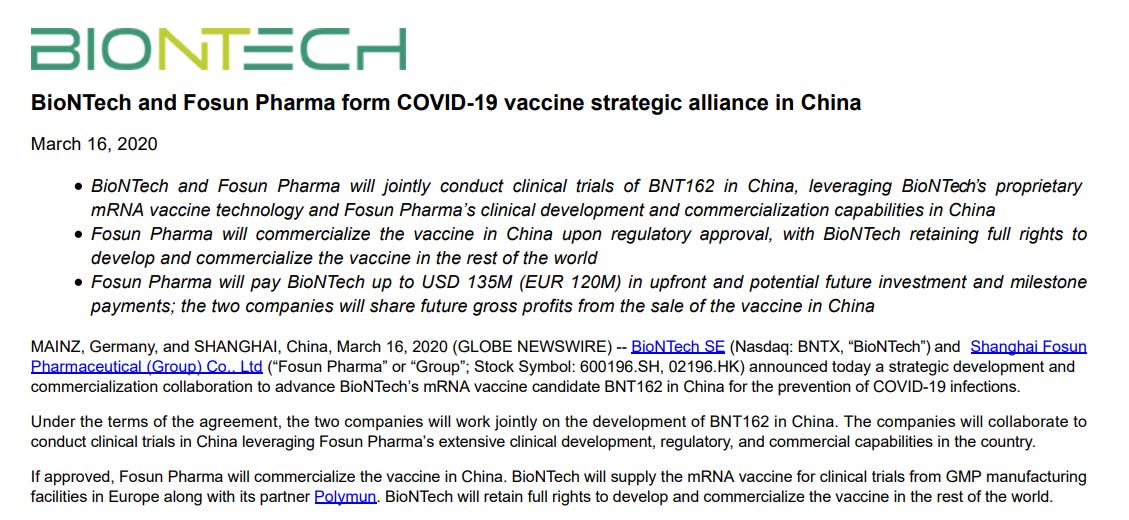 For avoidance of doubt: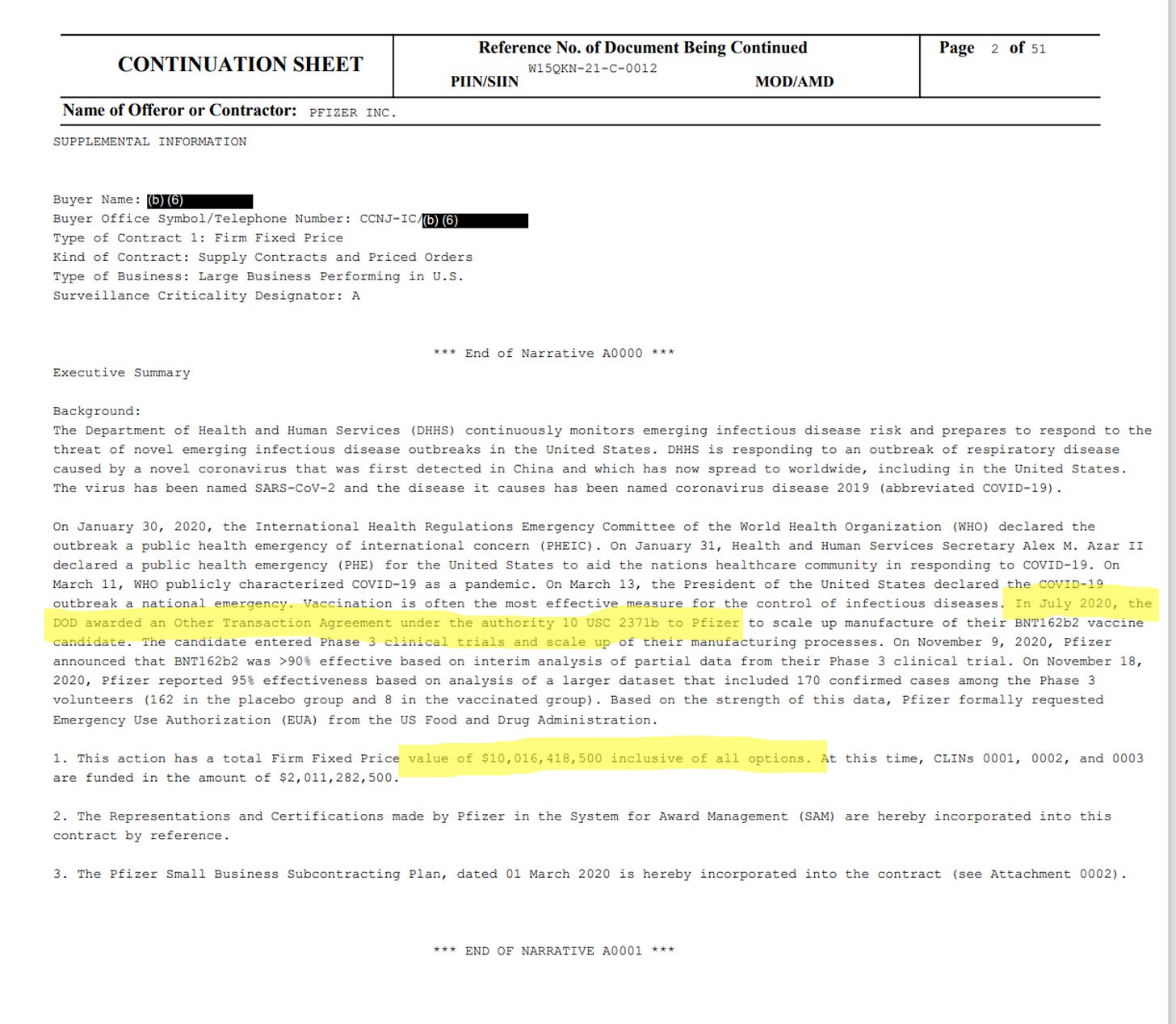 Below is the timeline of some of the key investments and R&D deals I was able to identify from public SEC shareholder disclosures, immediately preceding and following the "pandemic":
Just to make sure, we are talking about the exact technology in the mRNA shots. Here is the definition from March 17, 2020 agreement between Pfizer and BioNTech (p. 4):

The same document describes a data sharing agreement, "pharmacovigilance" globally among the 3 parties. They will count the bodies and share the data with each other: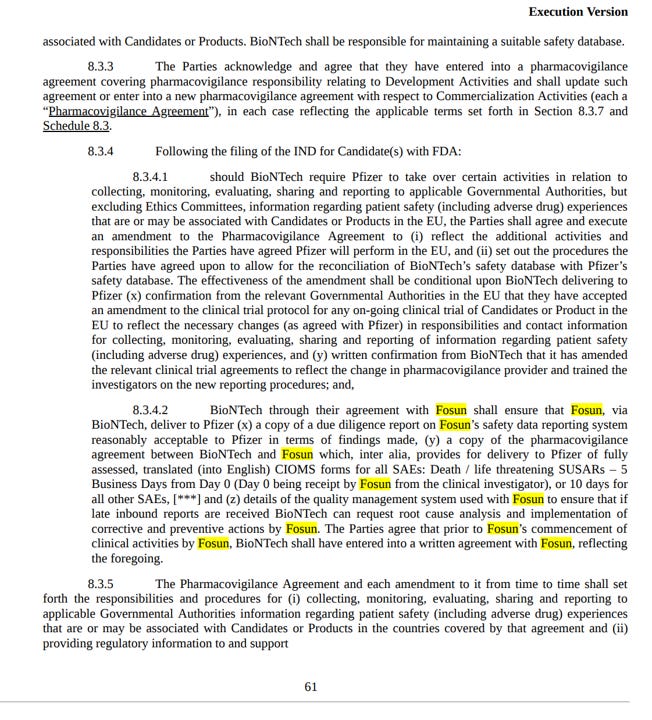 On the "pharmacovigilance" aspect, there is a 4th participant in this arrangement – the Israeli Ministry of Health, which entered into a data sharing agreement with Pfizer on January 6, 2021 and gave Pfizer (and by extension, US DoD and anyone who controls it, BioNTech and anyone who controls it, Fosun and anyone who controls it, i.e. CCP) access to all their citizens' centralized electronic health records. But don't worry, Benjamin Netanyahu promised to keep the data de-identified. Right.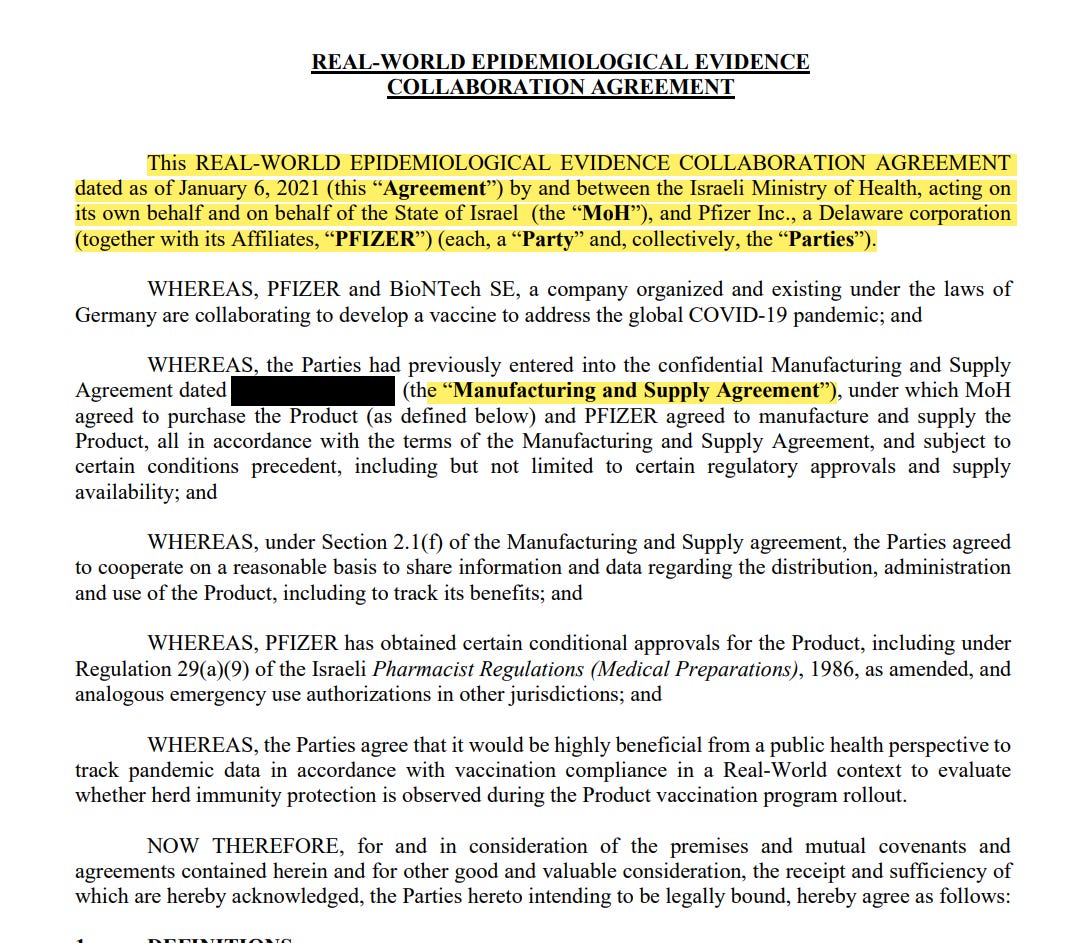 Side note – Israeli government recently "misplaced" the Manufacturing and Supply Agreement with Pfizer mentioned in the data sharing agreement above (so we know for sure it exists). The government sadly cannot find it for some reason…
Israeli government "lost the agreement" with pfizer for covid vaccines
This gets even larger and more interesting when looking at the sources of "R&D" financing. Turns out, there were numerous financial backers and co-investors in the BioNTech "venture" in the years preceding the global fraud and mass murder exercise. According to Crunchbase, BioNTech, a tiny company with just a handful of employees and NO PRODUCTS or scale manufacturing, raised $1.7B in 9 rounds of investments since around 2008. Large portion of the money, $1B+ was raised before 2020. What was it for, since no big clinical trials or scale manufacturing was happening then? That's a good question, worth examining at some point. Cursory review of some of the investment rounds indicates wide and very international involvement of a variety investors from US, Europe, UK, Australia, South Africa, mainland China, Hong Kong and Singapore among others. These likely included many government actors: "sovereign" funds, pension funds and the like who often do these investments by allocating money to "private venture funds" (limited partners in a private venture funds are confidential). Maybe I will do a separate article on this at a later date.
Note, many people ask me "what about China and Russia?" when I talk about our own government and DoD engaged in mass genocide of Americans. I answered about China – they are allied with the US DoD on this. The CCP is profiting from the financial windfall of the US government printing dollars and throwing them into the mRNA furnaces where they are driving masses of the brainwashed citizens to suicide themselves. China claims to use "traditional vaccines" – if you believe what the Chinese say, I have a bridge to sell you.
I have not seen evidence of any similar alliance with Russia. This makes sense, because ultimately this boils down to the war of US vs Russia using proxies and alliances (as it always does). This does not mean that Russia are "the good guys". Simply that the owners of Russia (whoever they are, not necessarily based in Russia) disagree with the owners of the US (whoever they are, not necessarily based in the US). Russia is running the same "covid script", using knock off RNA/DNA injections, probably buying materials from the same suppliers, and also using war to kill off their own younger population. It's just that they are doing it for THEIR OWN interests, not that of the US and their allies. – Sasha Latypova
For more context and a larger horizon on the topic, you also need to see this essential piece:
THE MILITARY BIOTECH COMPLEX FROM ORIGINS TO THE DARK WINTER AND COVID
To be continued?
Our work and existence, as media and people, is funded solely by our most generous supporters. But we're not really covering our costs so far, and we're in dire needs to upgrade our equipment, especially for video production.
Help SILVIEW.media survive and grow, please donate here, anything helps. Thank you!
! Articles can always be subject of later editing as a way of perfecting them