The political class does not represent its electors and their agenda, the plebs are taxed without representation, and that's serfdom.
Welcome to techno-feudalism!
You see them pushing the pedal to the metal nowadays because…
Only 12% of the UN Sustainable Development Goal targets are on track
A new United Nations report shows that global progress on tackling poverty and climate change is falling short
Quartz, April 28, 2023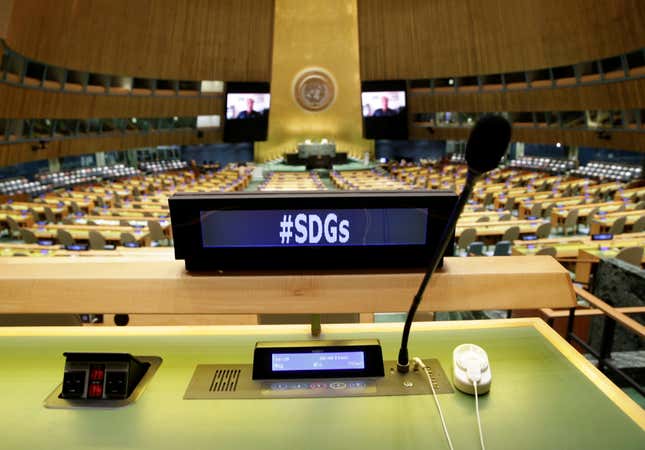 According to a new UN report, progress on the Sustainable Development Goals (SDGs) is not going well.
Among roughly 140 assessed SDG targets, only 12% (pdf) are on course to meet the 2030 deadline . Meanwhile, 50% of the action plan has seen "weak and insufficient" progress. Progress on nearly one third of the SDGs has either remained unchanged or even fallen below 2015 levels.
"Unless we act now, the 2030 Agenda will become an epitaph for a world that might have been," said António Guterres, the UN secretary-general, in remarks delivered Tuesday (April 25).
Guterres cited the covid pandemic and Russia's invasion of Ukraine as factors that have exacerbated the climate crisis, biodiversity loss, and pollution. SDG financing has also slipped since the pandemic, with the annual funding gap soaring from $2.5 trillion before covid to over $4 trillion last year.
The 2030 Agenda for Sustainable Development was drawn up in 2015 and adopted by all UN member states. The plan includes 17 goals, broken down into 169 targets, that are meant to address a range of structural problems in the developing and developed world, such as gender equality, education access, and healthcare. The ambitious plan of action also set out to end poverty and hunger by 2030.
By the digits: The UN's grim SDG progress report
26: The number of people in the world who possess the same wealth as half of the global population
286: The number of years it will take to achieve gender equality, given the current rate of progress
575 million: The number of people who will be living in extreme poverty in 2030, accounting for nearly 7% of the global population
3%: The increase in extinction risk since 2015
The covid pandemic impacted SDG progress
A full understanding of global SDG progress is patchy, due to gaps in the data. As the latest special report notes, receiving timely information from various geographic locations is a continuing challenge. Current estimates draw on data from 2020 to 2023, with 54% of the data drawn from 2021 and 2020. But 11 of the goals lack complete data.
That said, the report speaks to several broad trends in play since the SDGs were established. Many of the goals were impacted by the covid pandemic, which reversed three decades of progress on reducing global poverty, according to the report. Connected to increasing poverty, food insecurity has also been on the rise. More people are on track to face hunger in 2030 compared to in 2015. Currently, hunger levels have returned to levels last seen in 2005.
Education also took a hit from the pandemic. Even prior to covid, the SDG targets were not on track to meet the 2030 goals, but lockdowns and school closures exacerbated education losses. By 2030, the report estimates that 84 million children will not be in school, and 300 million students will still lack basic math and reading skills.
Related stories
🤕 How the UN's Sustainable Development Goals undermine democracy
To be continued?
Our work and existence, as media and people, is funded solely by our most generous supporters. But we're not really covering our costs so far, and we're in dire needs to upgrade our equipment, especially for video production.
Help SILVIEW.media survive and grow, please donate here, anything helps. Thank you!
! Articles can always be subject of later editing as a way of perfecting them