WTH ever happened to "verify from three independent sources"? All we have is a letter salad uploaded on a server by CCP and "isolation in cultures".
Back to the normal programming for the normally-abled:
… said this:
This is a video presentation, if YouTube Takes it down again, please look it up on Odysee, Brighteon or Bitchute
Amazing list of investors for Illumina, btw!
HOLLY MACARONI: CDC confirmed piecing together the code for the virus from scraps and apparently different places use different codes, which better explains some incidents. See from minute 5 here
ADDENDUM 2: FACT-CHECKERS CONFIRM
ADDENDUM 3 (SEPT 1ST 20201): FOUND A GEM! PROF. DAVID RASNICK LITERALLY AND INDEPENDENTALY SAID SAME THING: "THIS VIRUS EXISTS ONLY ON COMPUTERS". AND GOES ON CONFIRMING ALL MY THESIS AND MORE
ADDENDUM 4 (FEB 2022): LOUD AND CLEAR
UPDATE JULY 10, 2021
And yet another loud and clear confirmation that no one notices because…
"A bipartisan pair of lawmakers want information from the National Institutes of Health (NIH) about the deletion of data on the genetic sequence of the SARS-CoV-2 virus that could provide answers as to the virus's origin.
In a letter sent Friday and shared first with The Hill, Reps. Raja Krishnamoorthi (D-Ill.) and Mark Green (R-Tenn.) ask for answers about the missing genetic sequences, and press NIH Director Francis Collins to ensure there are safeguards in place to protect scientific data.
The letter comes after a scientist last month said he found some of the genetic sequences of the virus that had previously been uploaded to an NIH server in March 2020 were subsequently deleted at the request of the Chinese researchers from Wuhan who initially uploaded them.
Jesse Bloom, a principal researcher at the Fred Hutchinson Cancer Research Center, wrote in a preprint paper that he recovered 13 missing sequences that purportedly show the virus was circulating in the Chinese city of Wuhan before a December outbreak of COVID-19 that was linked to a "wet market" selling live animals.
The NIH said the requestor wanted the data removed from the agency's Sequence Read Archive and indicated it was being submitted to another database. Submitting investigators hold the rights to their data and can request withdrawal of the data, the agency said.
…
Top U.S. public health officials and experts are increasingly lending credibility to the need for a deeper investigation into the origins of the coronavirus.
Scientists haven't discovered definitive proof the virus leaked from a lab. But they also have not found hard evidence that shows the virus started in animals before naturally infecting humans, which is why some now argue an investigation is needed." – The (S)Hill
ALL THEY EVER TALK ABOUT IS DATA, A STREAM OF CHARACHTERS.
I mean it's hard to feel sorry for the human race when it's this dumb, eugenicists are not totally wrong, just not in position to decide who dies, because no one is.
UPDATE #4: JUNE 4, 2021
BREAKING! 2ND BATCH OF FAUCI E-MAILS
UPDATE #1 : WE'VE JUST BEEN CONFIRMED BY THE UNFORTUNATE AMATEUR PROPAGANDISTS DISGUISED AS FRANCE PRESSE FACT-CHECKERS
ALL THEY HAVE IS A "POST IT" FROM CHINA!
Ah, and a "Nature publication", I loled.

What kind of people use "there is no question" as scientific argument/evidence? Pseudo-scientists, snake-oil salesmen and con artists of all kinds.
The sub-zeroes from the CBS-affiliate WUSA9 try to lend a helping hand to their owners, but they double down for us:
They link, as evidence, to this NIH page which ONLY MENTIONS GENBANK, which is the same fridge on which China stuck that "post it" note.
THAT IS ALL THEY HAVE.
WTH ever happened to "verify from three independent sources"?
It used to be Rule #0 in journalism, back when I studied it in college.
Here are a bit over three sources to support something:
FOIs reveal that health/science institutions around the world have no record of SARS-COV-2 isolation/purification, anywhere, ever
"Would a sane person mix a patient sample (containing various sources of genetic material and never proven to contain any particular virus) with transfected monkey kidney cells, fetal bovine serum and toxic drugs, then claim that the resulting concoction is "SARS-COV-2 isolate" and ship it off internationally for use in critical research (including vaccine and test development)?
Because that's the sort of fraudulent monkey business that's being passed off as "virus isolation" by research teams around the world.
Just 1 of many examples is shown below – this is from a study cited by the Australian Department of Health as a paper "which led to the isolation of SARS-CoV-2 in culture". (Can you spot the oxymoron in that quote?)" – Fluoride Free Peel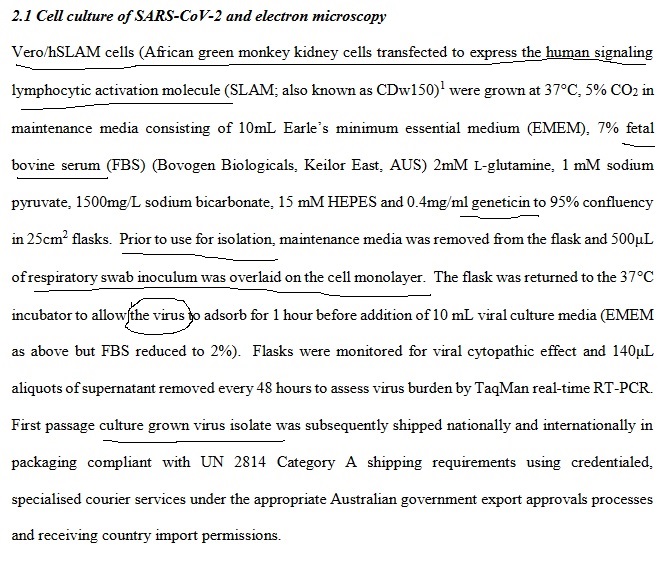 If you are new to the topic of "virus isolation/purification", I strongly recommend that you begin by reading the Statement On Virus Isolation by Dr. Andrew Kaufman, Dr. Thomas Cowan and
Sally Fallon Morell, MA: https://andrewkaufmanmd.com/sovi/
or watch this 5 minute video from Dr. Cowan.
Here are 5 compilation pdfs containing FOI responses from 79 institutions in 22 countries/jurisdictions, re the isolation/purification/existence of "SARS-COV-2", as well as emails from authors of studies that claimed to have "isolated the virus" and an email from the Head of the Consultant Laboratory for Diagnostic Electron Microscopy of Infectious Pathogens at Germany's Robert Koch Institut, last updated July 13, 2021 (note: many of these responses were obtained by FOI-submitters other than Michael S. and myself, as indicated further down this page):
Part 1: https://www.fluoridefreepeel.ca/wp-content/uploads/2021/02/FOI-replies-SARS-COV-2-isolation-existence-causation-47-institutions-Feb-12-2021-chrono-part-1.pdf
Part 2: https://www.fluoridefreepeel.ca/wp-content/uploads/2021/02/FOI-replies-SARS-COV-2-isolation-existence-causation-47-institutions-Feb-12-2021-chrono-part-2.pdf
Part 3: https://www.fluoridefreepeel.ca/wp-content/uploads/2021/04/FOI-replies-SARS-COV-2-isolation-purification-existence-part-3-April-3.pdf
Part 4: https://www.fluoridefreepeel.ca/wp-content/uploads/2021/06/FOI-replies-re-SARS-COV-2-purification-existence-June-3-2021-part-4.pdf
Part 5: https://www.fluoridefreepeel.ca/wp-content/uploads/2021/07/FOI-replies-re-SARS-COV-2-purification-existence-July-13-2021-part-5.pdf
UPDATE2:
I discovered this when the video was already up…
"Most of our readers are interested in consumer DNA testing for genealogy and ancestry research. Illumina played a massive role in making these services affordable. All the big DNA testing companies use Illumina's chip technology.
But some companies are even more closely intertwined with Illumina. I mention briefly in an article on who owns 23andMe that the chip company was an investor in the 2015 funding found of its customer."

https://www.dataminingdna.com/
"If you've ever used 23andMe, Ancestry.com, or any other genetics-testing service, chances are that your genes were sequenced on machines made by the $25 billion biotech behemoth. Now the undisputed leader in the emerging field of DNA sequencing in the U.S., Illumina has outstripped its rivals by selling its sequencing hardware to medical researchers around the world."

https://www.fastcompany.com/
As we've shown in previous reports, 23andMe is owned by Richard Branson and a former wife and current partner of Google's founder Sergey Brin. She also happens to be the sister of YouTube CEO.
"23andMe is owned by a sizeable number of large investors spearheaded by Anne Wojcicki (YouTube CEO sister and former Google owner wife – S.m) and Richard Branson. The list of investors with recent ownership stakes in the company includes Altimeter Capital, Fidelity, Casdin Capital, and Foresite Capital.
Since the company was founded in 2006, it has been involved in multiple funding rounds. There were at least 60 investors in 2020 before the merger, including GlaxoSmithKline and Sequoia Capital. Early investors include Alphabet (Google's parent company) and WuXi Healthcare Ventures (a Chinese company).
When 23andMe merged with Richard Branson's acquisition company, the existing stakeholders retained ownership of 81% of the merged company."

dataminingdna.com
According to Wikipedia:
"In 2005, co-founder and former Chief Scientific Officer Anthony Czarnik sued Illumina; see Czarnik v. Illumina Inc.
In 2010, Cornell University and Life Technologies filed a lawsuit against Illumina, alleging that its microarray products infringed on eight patents held by the university and exclusively licensed to the start-up. The case was settled in April 2017 without any finding of fault. In September 2017 both parties asked to have the settlement reviewed, with Cornell accusing both Illumina and Life Technologies of misrepresentation and fraud.[44]
In February 2020, Illumina filed a patent infringement suit against BGI relating to its "CoolMPS" sequencing products.[48] In return BGI has filed patent infringement lawsuits for violation of federal antitrust and California unfair competition laws, claiming use of "fraudulent behavior" to obtain or enforce sequencing patents that it has asserted against BGI, preventing the firm from entering the US market.[49]"
"BGI" as in…
BILL GATES' & BIG TECH'S CHINESE DARLINGS: WORLD'S TOP DNA HARVESTERS, CLONERS, UIGHUR PERSECUTERS (BIOHACKING P.4)
Ah, also…
UPDATE 3:
Sharryl Atkinson investigates the source of the virus, finds out no one in US got samples in their lab, moves on trying to find the source of a virus that no one can provide samples / isolation / purification.
UPDATE 4 (hopefully final)
I think we're done here.
To be continued?
Our work and existence, as media and people, is funded solely by our most generous supporters. But we're not really covering our costs so far, and we're in dire needs to upgrade our equipment, especially for video production.
Help SILVIEW.media survive and grow, please donate here, anything helps. Thank you!
! Articles can always be subject of later editing as a way of perfecting them