I saved the funniest parts for last.
LATER UPDATE, AUGUST2022
Hundreds of Al-Qaeda militants arrive in Ukraine from Syria
The Al-Qaeda militants arrived just days after Russian intelligence warned that Washington was providing them with training for the fight in Ukraine
The Cradle – March 08 2022
(Photo credit: REUTERS/Khalil Ashawi)
Around 450 militants from the Hayat Tahrir al-Sham (HTS) armed group, a re-branded Jabhat al-Nusra (the Syrian branch of Al-Qaeda), arrived in Ukraine on 8 March to fight against the Russian army.
The militants reportedly left Idlib governorate in northern Syria only three days ago, entering Ukraine after passing through Turkey.
The militants consist of both Arab and foreign nationals, as HTS, ISIS, and other militias in Syria allow foreigners to join their ranks.
The newly arrived fighters in Ukraine reportedly consist of approximately 300 Syrians, with the rest a mix of Belgian, French, Chechen, Chinese, Tunisian, British, and Moroccan nationals.
Family members of the militants reported to Sputnik News that high-ranking HTS fighters are coordinating with senior leaders of the Turkistan Islamic Party group, Ansar al-Tawhid, and Hurras al-Din groups, to facilitate the passage of fighters from Idlib to Turkey and then on to Ukraine.
The sources explained further that many of those who have gone to Ukraine are veterans of the US-backed war against the Syrian government and were offered this new task as a means of resolving disputes between the soldiers and the HTS leadership.
The income for Syrian fighters is reported to be around $1,200-$1,500. The income for foreign nationals is not yet known.
Foreign mercenaries from around the globe have joined in on the side of Ukraine as President Volodymyr Zelensky pleads for global assistance in the wake of the Russian military operation.
Russian intelligence services warned on 4 March that the US was sending extremist militants from Idlib governorate to Ukraine to fight against Russia. Moscow has accused Washington of training these extremist militants at the US Al-Tanf military base in southeastern Syria.
This latest escalation of the Russian-Ukrainian conflict comes as wheat and oil prices surge and stocks are straitened due to the conflict.
The two sides have been negotiating in Belarus to address points that could potentially lead to a ceasefire agreement.
450 Arab and foreign extremists from Idlib arrive in Ukraine
Almost 450 extremists from various nationalities arrive to Idlib to fight against Russian troops, after leaving Syria and passing through Turkey.
Close to 450 extremist Arab and foreign nationals have arrived in Ukraine from Idlib to fight against Russia's forces, less than only three days after they left Syria, passing through Turkey.
Relatives of extremists that have arrived in Ukraine told Sputnik that senior fighters from terrorist group Hayat Tahrir al-Sham (the rebranded version of Jabhat Al-Nusra, i.e Al-Qaeda) have held a number of meetings with senior leaders in the Turkistan Islamic Party group and Ansar Al-Tawhid and Hurras al-Din groups, and agreed on allowing a number of all their fighters to enter Ukraine through Turkish soil.
The sources added that most of these foreign fighters are veterans of the Syrian war, had been causing issues in Idlib, and were given this opportunity to fight against Russia as a compromise by which they would receive a new start and with an acceptable income.
Hayat Tahrir Al-Sham also gave these fighters assurances that their families would be allowed to join them later.
Around 300 of these fighters are Syrian nationals that are originally from the Idlib and Aleppo countrysides, while the 150 others are Belgian, French, Chinese, Moroccan, Tunisian, Chechen and British nationals.
As for the financial compensation, the sources said the fighters that hail from Syria will receive around $1200-$1500, but had no knowledge what the foreign nationals were going to be paid.
Ukraine's President, Volodymyr Zelensky, has previously stated that 16,000 foreign mercenaries will fight for the country.
Russia's President Vladimir Putin had warned Germany's Chancellor Olaf Scholz during a meeting last Friday of the growing number of foreign mercenaries operating in Ukraine, including those coming from Albania and Croatia and namely militants and Jihadists coming from Kosovo in order to put their experience from military operations in Syria to use.
Syrian activist on Ukraine: 'We share a similar suffering'
by Deutsche Welle, March 5, 2022
Syrian opposition activists say they know what it's like to go up against the Russian military. Some experts think things may have turned out differently in Ukraine if the West had stood up to the Kremlin over Syria.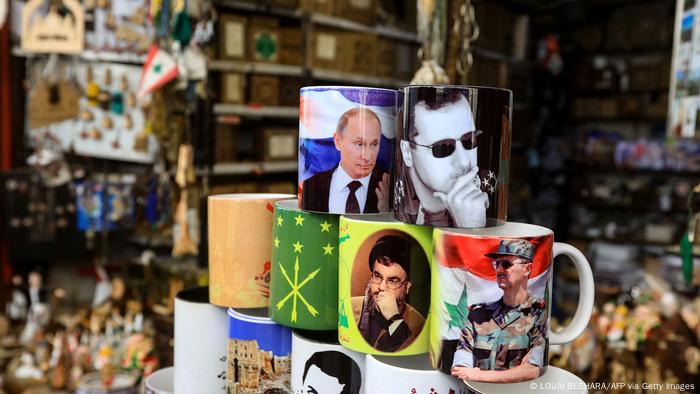 "I very much feel for the people of Ukraine," says Huda Khayti, the head of a women's center in Idlib. "It's terrible to see how ruthless Russia is also in Ukraine. Vladimir Putin does what he wants, nobody has ever set limits on him. We Syrians know what we're talking about," she explains.
She's not originally from Idlib, but like hundreds of thousands of Syrians, she became an internally displaced and had to flee several times to survive.
Khayti has often seen just how cruel the bombing raids from Putin's military can be. Back in 2018, she had to leave East Ghouta, near Damascus, because Russia, alongside Syrian ruler Bashar al-Assad, was bombing the area to the ground.
"I come from Douma and survived a poison gas attack by the Syrian regime. I know what it's like to live under a hail of bombs or to be cooped up like I did in East Ghouta," she says.
In the spring of 2018 she finally came to Idlib province. All opposition and rebel groups alike then moved into the province, which is now controlled by the Islamist group Hayat Tahrir al-Sham (HTS), which is close to al-Qaeda.
Allegations of war crimes
Supported by the Russian military, the Syrian Air Force has repeatedly attacked the province. Human Rights Watch (HRW) has ruled that Syrian and Russian civil and military officials are involved in war crimes because of their command responsibilities.
The scale of the destruction in Syria would not have been possible without the Russian President's military support for al-Assad. In 2015, it actually looked like he might be losing the war, but that same year, Moscow intervened at the request of the regime in Damascus. Unlike the invasion of Ukraine, Russia's intervention was therefore not in breach of international law.
Nevertheless, rules governing war were consistently violated: together with its allies in Iran, Russia and the Syrian government attacked hospitals, schools and markets in order to recapture areas from al-Assad's opponents.
Syria: Will Germany indict Bashar Assad for war crimes?
The use of barrel bombs, cluster munitions and vacuum bombs, which violate international law, has been thoroughly documented.
A UN report released in 2020 investigated various atrocities in Syria and concluded that Russia's military was directly implicated in war crimes by indiscriminately bombing civilian areas. But neither al-Assad nor Putin have faced serious consequences.
Russia's veto at the UN Security Council
As a permanent member of the United Nations Security Council, Moscow has blocked at least 16 resolutions on Syria. This has prevented crimes committed by the Syrian regime from being referred to the International Criminal Court in The Hague.
"All the events in Syria should have raised the question of how far it is possible for a permanent member of the UN Security Council to be able to decide over a war it is itself involved in," says Bente Scheller, director the Middle East and North Africa Department of the Heinrich Böll Foundation. According to Scheller, this setup is outdated and a different format is needed. But so far, all attempts to restructure the UN Security Council have failed.
Has the West looked the other way in Syria? "No," says Scheller, explaining that it didn't ignore these crimes — but also couldn't get itself to act. When Western countries eventually decided to intervene militarily in Syria, it was more about fighting the "Islamic State" (IS) terrorist group than protecting the population.
Cluster bombs and propaganda
Could we have learned from Syria? "Yes," believes Khayti. "Due to the inaction of the international community in Syria, Putin was given the green light to take brutal action elsewhere."
Putin's army has already bombed civilian facilities in Ukraine. According to HRW, cluster bombs have also been used there, just as they were in Syria.
Ukrainian cities come under increasing attack
Whether propaganda wars, the use of brutal mercenary groups or war crimes, "Putin was able to try out his weapons and warfare technology in Syria," says Scheller. "These are all precursors from which he was able to draw the lesson: He has nothing to fear from the West."
Even if crises and wars are not always comparable, says Khayti, "I wonder whether an attack of this kind on Ukraine would have been possible if the world had previously taken a more determined stand against Russia's interference in the Syrian war."
Hope that tide will turn against Russia
She is relieved that the Russian government is now being met more harshly, at least with regard to Ukraine. "I wish that the Ukrainians would be spared years of suffering," says Khayti.
Many Syrians would like a direct channel to the Ukrainians, she explains, to tell them, for example, how best to protect themselves. Some would even like to fight alongside the Ukrainians against the Russian military, she says. "We share a similar suffering. We know better than anyone else in the world what Ukraine is going through right now."
But there also is a stale aftertaste for Khayti. "There have not been such harsh sanctions in so many years of war in Syria," says the women's rights activist. She also points to the sometimes different treatment of refugees in Europe. "There seems to be something like first-class and second-class refugees."
She hopes that the fate of Syrian refugees will also be taken very seriously: there are still people drowning in the Mediterranean, or freezing to death at European borders or stuck in makeshift camps in Greece for years.
Still, there are hopes in Idlib that the tide could turn against Russia's government in both Ukraine and Syria.
Foreign fighters are dangerous—for the groups they join
May 24, 2019, Slate Magazine
The release of John Walker Lindh, the "American Taliban," from prison after 17 years has raised concerns that he will return to terrorism, sparked anger at what some see as the early release of a traitor, and generated reflections on the seemingly endless war in Afghanistan. Lost in the discussion, however, is an important yet often-missed issue: Foreign fighters like Lindh often bring little value to the jihadi groups they join.
After his capture in Afghanistan in 2001, Lindh proved an early ripple in what became a foreign fighter wave. Subsequent wars in Iraq and Somalia drew more foreign recruits from the United States and Europe, while the process went on steroids when the Syrian civil war broke out in 2011 and over 40,000 foreigners traveled there to fight. Of these, almost 6,000 were from Europe, compared with around 700 between 1990 and 2010 for jihads like Afghanistan, Bosnia, Chechnya, and Iraq combined. The number of American figures is far smaller—a study from George Washington University's Program on Extremism found that by 2018 fewer than 100 Americans had successfully traveled to Syria to fight—but even that figure is large compared with previous jihads.
On the surface, Western foreign fighters would seem desirable for jihadi groups. Those who leave their homes to travel to a faraway war zone are likely to be particularly committed to the cause and willing to do anything to help the group. Terrorism expert Mohammad Hafez found that foreigners represented a disproportionate share of suicide bombers attacking U.S. forces in Iraq. In addition, foreign fighters lack local ties. As such, they are not concerned about retaliation against their own families and communities and are often involved in the worst atrocities both because of their zealotry and because groups like the Islamic State use them to repress and intimidate local communities.
Finally, foreigners are valuable if the group wants to conduct terrorism in their home countries. They have passports, know the language, can form and work with local radical groups, and in general have a comfort and familiarity with the West that a non-Western operative would lack. According to terrorism scholar Thomas Hegghammer, the presence of a veteran of a foreign jihad increases both the success rate and the lethality of a terrorist attack in a western country. Finally, the foreigners also validate the group they join. Al-Qaida and the Islamic State group boasted that they were leaders of the global Muslim community, and the presence of Muslims from around the world helped substantiate that grandiose claim.
Yet for all these benefits, foreign fighters—especially the Western ones—come with many drawbacks. Their zealotry does not make up for their lack of military training or experience. At times, as in Afghanistan before 9/11, when Lindh joined the Taliban, groups had a range of training camps to correct for this problem, but this is extensive infrastructure is largely a thing of the past. In most war zones training is hurried, with combat itself leading to a survival-of-the-fittest winnowing.
Foreign fighter mortality rates are high, often well over 20 percent. The class of recruits that included Omar Hammami, an early American volunteer for Somalia's al-Shabab, is suggestive. In his autobiography, Hammami noted that out of the five volunteers for one of his groups, one was captured and three were killed (Hammami, the fifth, would also later be killed). The foreigners' zealotry in combat and eagerness for martyrdom is one reason for the high casualty count, but their foreign looks and ways also made them more likely to be arrested or killed.
Not surprisingly, the foreigners are easily disillusioned. Hammami recalled he had to dismiss his initial fantasies about divine intervention, inspired by the works of jihadi propagandists: "I had to come to terms with the fact that the angels don't come down and save the day for every battle." Recruits also chafed at the boredom and tedium common to soldiers in any war. When asked to stand down when the al-Shabab sought a break in the fighting, Hammami and others considered trying to find another place to fight. One of his fellow jihadis quipped, "The true blessing is not make it to Jihaad … the true blessing is staying in Jihaad."
The foreigners also cause problems for the jihadi groups themselves because their extreme views (and often superficial knowledge of Islam) alienate locals. At times, this would take the form of lecturing locals on proper behavior, but it might also result in beatings and even killing for supposed infractions. An al-Qaida in Iraq after action report blamed foreigners for their "disdain for differences in opinions, arguments and exposing faults." Even when they are better behaved, their very presence conflicts with the nationalism and anti-foreign sentiment that often motivates local fighters.
The foreign presence also shapes the war in ways that hinder jihadi groups' ultimate success. Foreign fighters often reject borders within Muslim lands as colonial creations meant to divide the faithful, and they have transnational connections and networks that brought them to the war zone. Foreign fighters often spark or legitimate war against the jihadi group. In Chechnya, where locals enjoyed hard-won autonomy from Russia after a bitter war that ended in 1996, foreigners played an instrumental role in shattering this peace and expanding the fight into the neighboring Russian region of Dagestan in 1999. A hitherto little-known politician named Vladimir Putin seized on the Dagestan attack to renew the war in Chechnya and used the presence of foreigners among Chechen fighters to justify a harsh Russian response that eventually put Chechnya back under Moscow's thumb. Bashir al-Assad would similarly exploit the presence of foreign jihadis on Syrian soil to paint the opposition as a terrorist group and himself as a defender of civilization.
Even when it comes to terrorism in the West, those who travel to foreign battlefields and then return, are often less effective than commonly realized. In the pre-9/11 era, most governments paid little attention to foreign fighters, and they could go to Afghanistan or other countries to train and fight with little interference. After 9/11, however, governments focused far more on this danger, and foreign fighters were far more likely to be arrested on their return. Their transit, activities in the war zone, and social media presence made them more detectable than those who simply stayed home to do attacks. In the United States, no foreign fighter has successfully committed a terrorist attack since 9/11—a remarkable success story.
Some jihadi groups are now placing limits on the role of foreigners. Al-Qaida in the Arabian Peninsula, one of the group's most successful affiliates, is careful not to deploy foreigners to sensitive areas where they might alienate locals. Many groups, however, are still desperate for manpower, and their self-image makes them reluctant to reject Western Muslims who claim to follow their credo.
Foreign fighters like Lindh are thus a mixed blessing. Although they help terrorist groups fight their wars, they also gain those groups new enemies and cause problems with the locals, both of which make long-term jihadi success less likely. For the United States and allied governments, vigilance is necessary to prevent the foreign fighters from becoming a dangerous terrorism risk, but local allies are often eager to cooperate with the Western governments against these dangerous imports for their own reasons.
How The CIA Built The "New Al-Qaeda" In Ukraine, The White Supremacy Trap
How The CIA Built The "New Al-Qaeda" In Ukraine, The White Supremacy Trap & The Vaccine Time Bomb
Ukraine And The New Al Qaeda
Posted on Author Whitney Webb
The eruption of war between Russia and Ukraine appears to have given the CIA the pretext to launch a long-planned insurgency in the country, one poised to spread far beyond Ukraine's borders with major implications for Biden's "War on Domestic Terror"
Hillary Clinton hails mujahideen for driving out Russia, explains how by dropping enough weapons in Ukraine, an Afghanistan-like condition can be achieved
Many social media users reminded Clinton that arming insurgents with modern weapons and giving them millions of dollars did not work out very well for the USA either.
1 March, 2022 , OpIndia
On March 1, American politician and diplomat Hillary Clinton took a jibe at Russia and hailed how armed insurgents in Afghanistan had driven out Russia from Afghanistan in the 1980s. During a talk show on the news channel, MSNBC Hillary pointed out Russia had invaded Afghanistan in 1980, and they had a lot of help in terms of weapons and advice from the people in the war zone, including some of the advisors who were recruited to fight Russia.
"Russia invaded Afghanistan back in 1980, and although no country went in, they certainly had a lot of countries supplying arms and advice and even some advisors to those who were recruited to fight Russia," She said.
Clinton further added that things did not go well for the Russians at that time as "a very motivated and then funded and armed insurgency basically drove the Russians out of Afghanistan". She said though the situation in the Russia-Ukraine conflict is different, if Ukraine is supplied with sufficient armaments, they can fight Russia and take back control of the land.
Clinton also pointed out how Russia brought a lot of airpower to Syria, but it took a long time to defeat the terrorist organizations. She said, "Now let's be clear that Russia has overwhelming military force, but of course, they did in Afghanistan as well. They also brought a lot of airpower to Syria. It took years to finally defeat Syria in terms of insurgencies and democratic forces as well and others who battled the Russians, Syrians and Iranians."
She added the US should keep providing Ukraine with weapons to continue fighting Russia. She said, "So I think we have to watch this carefully. We have to provide sufficient military armaments for the Ukraine military and volunteers, and we have to keep tightening the screws."
Many social media users reminded Clinton that arming insurgents with modern weapons and giving them millions of dollars did not work out very well for the USA either.
What Hillary Clinton forgot to mention was, it was the weapons and funding provided by the West, especially the USA, that created the Islamic terrorist organisations like Al Qaeda and Taliban that eventually turned Afghanistan into a radical wasteland and killed and displaced millions of innocent people.
The Soviet-Afghanistan war and how USA helped create the Al Qaeda and Taliban
In December 1979, the Soviets forces invaded Afghanistan to support the then-Communist government against the Muslim guerrillas in the Afghan war that ran from 1978 to 1992. In April 1978, the left-wing military force under the leadership of Nur Mohammad Taraki overthrown Afghanistan's centrist government, headed by Pres. Mohammad Daud Khan. The People's (Khalq) Party and the Banner (Parcham) Party were the two Marxist-Leninist groups that took control of the nation. They formed the People's Democratic Party of Afghanistan to run the government and formed close ties with the Soviet Union.
The then-Afghanistan government used forced tactics to suppress the domestic opposition. The devout Muslims and anti-communist population started rising against the government, leading to insurgencies among both urban and tribal groups that were collectively known as the mujahideen. The uprising prompted the Soviet Union to invade the Country. Around 30,000 troops entered Afghanistan, which resulted in toppling the then-communist government.
The United States and other countries backed mujahideen groups and helped them spread the insurgencies across Afghanistan. The support rebellion groups got from the US and other nations practically neutralized Russian Soviet forces across the Country. Notably, the airpower that Russia brought in the war was brought down by the rebellions by using shoulder-fired antiaircraft missiles supplied by the US. Pakistan played a vital role in supplying weapons to rebel groups in Afghanistan too.
In 1988, the Soviet Union signed an accord with the United States, Pakistan and Afghanistan to withdraw the troops. The withdrawal of the troops was completed on February 15, 1989, almost ten years after Soviet troops entered Afghanistan.
Mujahideens – The rebels that turned into Taliban and Al-Qaeda
Though Hillary conveniently praised the "highly motivated insurgents" of Afghanistan, commonly known as the mujahideen, to force Russia (then-Soviet Union) out of Afghanistan, she forgot to mention that those groups were the same that formed terrorist organizations like the Taliban and Al-Qaeda. The same Taliban that is now controlling Afghanistan forced US troops out of the country after a 20-year war. Al-Qaeda, another terrorist group formed out of the mujahideen, was responsible for the 9/11 attack in which thousands of Americans lost their lives.
Over the years, Afghanistan has become a dysfunctional state where deaths and misery rules and human lives have no value.
More necessary 2015 flashbacks
The funny part:
Ukraine joins EU sanctions against ISIS, al-Qaeda
09.11.2021 – UkrInform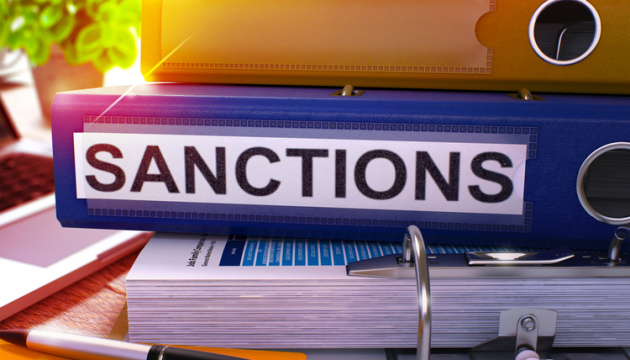 Ukraine has supported the EU's restrictive measures against ISIS, al-Qaeda, as well as persons and groups associated with them, and has undertaken to align its policies with the EU's decision.
That's according to the Declaration by the High Representative on behalf of the EU, the full text of which has been published on the website of the European Council, Ukrinform reports.
"On 18 October 2021, the Council adopted Decision (CFSP) 2021/1825. The Council Decision extends the existing restrictive measures until 31 October 2022. The Candidate Countries the Republic of North Macedonia, Montenegro, Serbia and Albania, and the EFTA countries Iceland and Liechtenstein, members of the European Economic Area, as well as Ukraine, the Republic of Moldova, Armenia and Georgia align themselves with this Council Decision," the declaration reads.
According to the document, these countries will ensure that their national policies conform to these Council Decisions. The European Union takes note of this commitment and welcomes it.
The funniest part:
The boat seems to be largely owned and commended by Jewish oligarchs.
See below
More background information:
Absolute must see resources on Ukraine:
Why Does No One Care That Neo-Nazis Are Gaining Power In Ukraine?
Forward Magazine (Israel), December 31, 2018
I can't count the number of times I've been told Ukraine doesn't really have a problem with its far-right. It's all Kremlin propaganda; you're personally helping Putin by talking about it; other countries have far-right problems too, so why single out Ukraine? I've heard it all.
But I expect hear even more lines like this in the New Year, all because I'm going to point out the obvious: Ukraine really does have a far-right problem, and it's not a fiction of Kremlin propaganda. And it's well past time to talk about it.
Ukraine's far-right is like a hydra, with ugly heads that pop up far too frequently. Just within the last few weeks, an American-born cabinet minister thanked a group of violent neo-Nazi "activists" for their services, a soldier was photographed wearing a Nazi death's head patch right behind President Petro Poroshenko and almost 1,500 neo-Nazis and friends threw a two-day Hitler-salute-fest.
Violent far-right groups have been around in Ukraine for years, albeit in marginal numbers. But over the last year they've grown not just in significance but in aggressiveness.
I know because I've been on the receiving end myself.
At a march in November to commemorate people who've fallen victim to transphobic violence, I watched as a march of barely 50 participants was shut down by some 200 far-right extremists. I felt their wrath myself as two of them assaulted me in separate incidents afterwards.
I'm far from the first person who's fallen victim to Ukrainian far-right groups, nor anywhere near the most serious. Their members have attacked Roma camps multiple times, even killing a Roma man earlier this year. They've stormed local city council meetings to intimidate elected officials. They've marched by the thousands through the streets to commemorate WWII-era nationalist formations who took part in ethnic cleansing. They've acted as vigilantes with little to no negative reaction from state authorities.
…checking out Instagram photos from last night, and Goatmoon's guitarist has an….interesting tattoo. pic.twitter.com/6fFIG4OgJQ

— Michael Colborne (@ColborneMichael) December 16, 2018
Members of Ukraine's far-right also offer themselves up as thugs for hire – sometimes with deadly consequences. This summer, anti-corruption activist Kateryna Handziuk was the victim of a horrifying acid attack. In July, several extremists – who apparently were paid by corrupt local police to carry out the attack – doused her with sulfuric acid, burning her over 40 percent of her body. She died from her injuries in November.
Ukraine's notorious Azov movement keeps growing. Since it was created in 2014 to fight Russian-led forces in the east, it made news by accepting openly neo-Nazi members into its rank. Now the Azov Battalion has become an official Ukrainian National Guard regiment. In 2016 the group formed a political party, which, they claim, now has tens of thousands of members. Earlier this year they unveiled a paramilitary force that doubles as a street gang.
Even as their party polls barely a percent, Azov is trying – as one of their higher-ups has told me personally – to build a far-right "state within the state," running everything from nationalist study groups and mixed martial arts training to free gyms for youth and programs for the elderly. They're also trying to turn Kiev into a capital of the global far-right, inviting neo-Nazis and white supremacists from around the world to visit.
Whatever group they're part of, Ukraine's far-right is increasingly nonchalant about the use of violence. When I was covering the march in Kiev on November 18, one of them walked up to me and sprayed me with a quart-sized bottle of pepper spray. Another then sucker-punched me in the face just yards away from onlooking police – hard enough to smash my glasses and cut me up.
Yes, I'm still mad about what happened to me. But I'm even more mad about a peaceful assembly of barely fifty people being cancelled because some violent hooligans decided it should be.
And what makes me angriest of all is that many prominent people in Ukraine and beyond that keep wanting to tell you that the far-right isn't that big a problem.
But it's time to talk about why extremists in this country are able to attack people in broad daylight as police stand by. It's time to talk about why some of them are receiving state funds and taking part in official police patrols in some cities. It's time to talk about why a group that denies it has neo-Nazi leanings can help host a two-day neo-Nazi music festival with barely a peep from anyone. It's time to talk about why Ukrainian President Petro Poroshenko, up for re-election in March, is happy to flirt with hardline nationalist rhetoric and hasn't bothered to condemn incidents like last month's attack on a peaceful protest.
And more. Fans are freely posting this stuff publicly in the days after the festival. pic.twitter.com/EbcxD0d9md

— Michael Colborne (@ColborneMichael) December 18, 2018
It's time to talk about why so many mainstream figures in Ukraine and abroad don't seem too bothered by any of this. Yes, every country has its extremists, but not every country has public figures that (repeatedly) defend the actions of violent vigilante groups like the notorious C14 – or, like Ukraine's American-born health minister Ulana Suprun, sully a (deserved) positive reputation by hobnobbing for photos with the group's leaders on social media).
And no, I haven't forgotten that Ukraine is still mired in a Russian-orchestrated war on part of its territory, and that Moscow likes to use Ukrainian nationalists in its propaganda – part of its longstanding practice of painting all Ukrainians, nationalists or not, as "Nazis" (not true), or as supporters of Nazi-era collaborationist movements that were active in some parts of Ukraine (also not true). I also don't doubt that the Kremlin itself funds or supports some of the far-right agitation here so that it can use them for its own purposes.
That's why I know what I'm going to hear next. I'll probably be told that I'm part of Putin's hybrid war (really?), that I work for the Kremlin (um, no), or that I'm doing the Kremlin's work (also no). But I didn't invent Ukraine's far-right, and I certainly haven't helped them gain the prominence they've got heading in 2019.
The problem is real. It's time for Ukraine to talk about it and take it on.
Michael Colborne is a Canadian journalist who covers central and eastern Europe and is writing a series of articles about Ukraine's far-right.
Rights Groups Demand Israel Stop Arming neo-Nazis in Ukraine
Human rights activists petition the court to cease Israeli arms exports to Ukraine since some of these weapons reach neo-Nazi elements in Ukraine's security forces
by Haaretz, Jul. 9, 2018
A group of more than 40 human rights activists have filed a petition with the High Court of Justice, demanding the cessation of Israeli arms exports to Ukraine.
They argue that these weapons serve forces that openly espouse a neo-Nazi ideology and cite evidence that the right-wing Azov militia, whose members are part of Ukraine's armed forces, and are supported by the country's ministry of internal affairs, is using these weapons.
An earlier appeal to the Defense Ministry was met with no response.
The ministry's considerations in granting export licenses for armaments are not disclosed to the public, but it appears that the appearance of Israeli weapons in the hands of avowed neo-Nazis should be a consideration used in opposing the granting of such a license.
Nevertheless, this is not the first time in which the defense establishment is arming forces that embrace a national socialist ideology.
In the past, Israel has armed anti-Semitic regimes, such as the generals' regime in Argentina, which murdered thousands of Jews in camps while its soldiers stood in watchtowers guarding the abducted prisoners with their Uzi submachine guns.
According to a freedom of information petition to Israel's defense ministry from last January (Hebrew: read in full here), Israel also armed Bolivia's military regimes, knowing that Nazi war criminal Klaus Barbie was part of the regime. Legal documents used to convict the head of the junta also showed that Barbie's death squads used Israeli Uzis.
In the case of Ukraine forces using Israeli weapons are openly stating their support for racist and anti-Semitic ideas, in various publications.
The Azov militia was established in Ukraine following the Russian invasion of the Crimean peninsula in 2014. The militia's emblems are well-known national socialist ones. Its members use the Nazi salute and carry swastikas and SS insignias.
Moreover, some of them openly admit they have neo-Nazi sentiments and that they are Holocaust deniers. One militia member said in an interview that he was fighting Russia since Putin was a Jew. An Azov sergeant said that he was a national socialist, although he was not in favor of genocide, and as long as minorities in Ukraine did not demand special rights he would have no problem with them.
Tweet by Ukrainian militia leader meeting with Israelis
The militia's founder, Andriy Biletsky, who is now a member of Ukraine's parliament, formerly headed a neo-Nazi group called Patriot of Ukraine, now defunct. Its members comprise the founding core of Azov.
"Our nation's historic mission at this critical juncture is to lead the final march of the white race towards its survival" Biletsky has said. "This is a march against sub-humans who are led by the Semite race." According to reports by human rights groups militia members are suspected of war crimes, torture and sexual violence.
In tandem with the rising power of Azov, which has more than 3,000 members, there is a rise in anti-Semitic incidents and attacks against Ukraine's minorities. Neo-Nazi groups have attacked Jews and Jewish memorial sites across Ukraine, as well as journalists, Roma and members of the LGBT community.
One member of parliament declared, in response to a question about the country's "Jewish problem", that "in the government there is non-Ukrainian bloodthis must be addressed." Last May right-wing groups marched through Odessa, their leaders claiming that the city belongs to Ukrainians, not Jews, and that they would get rid of the latter.
All this is happening as the Ukrainian administration is trying to deny the country's role in the Holocaust, just as is happening in Poland (now with the support of the Netanyahu government).
These attempts include rewriting the history of World War II and the glorification of Ukraine's soldiers, using legislation and various publications, as well as concocting stories about Jews who were allies of national Ukrainian forces during the war, whereas in fact Jews had to hide their identity.
In 2015, the Holocaust Museum in Washington denounced Ukrainian legislation which was intended to prevent criticism of collaboration with the Nazis.
The Simon Wiesenthal Center and the World Jewish Congress condemned the decision to name central boulevards in Kiev after Nazi collaborators. If that weren't enough, last April there was a march honoring Ukrainian Waffen SS units which massacred thousands of Jews during World War II. In June, Ukraine's chief military prosecutor Anatoli Matios said in an interview that Jews want "to drown Slavs in blood."
Since the spring of 2015 members of the Azov militia have been part of the regular security forces in Ukraine, a part of the National Guard which is under the country's ministry of internal affairs. The militia encourages members and supporters to enlist in the army. However, the militia maintains itself as a separate organization.
In December of 2016 Ukraine's internal affairs minister Arsen Avakov, considered Azov's patron and a candidate for prime minister, met a Knesset delegation headed by MK David Amsalem, on an official visit to Ukraine.
Avakov has also met Arye Dery, the minister of interior. Avakov appointed Vadym Troyan, a senior Azov commander, as the head of Kiev's police force. Another militia founder was given a different senior police post. These ties were formed when Avakov was a regional governor, cooperating with the neo-Nazi forces of the Patriot of Ukraine, the forerunner of Azov.
Last January the U.S. Congress prohibited any support for the Ukrainian militia. Since Israel's defense ministry does not divulge any information on arms exports, particularly not to Ukraine, for fear of Russian wrath, it's difficult to assess the extent of the ties with Kiev, but these are certainly in place.
The petition, submitted by attorney Itay Mack, contains abundant evidence showing the arming of the Ukrainian regime and its Azov forces.
Thus, for example, Ukrainian soldiers have been seen carrying Israeli-made Tavor rifles in military parades in Kiev. In February 2016 it was revealed that Elbit Systems will be part of a group investing in Ukraine's defense establishment.
In April 2016 the chief of Ukraine's air force met a representative of an Israeli defense company to discuss the upgrading of communications systems in that country's warplanes and helicopters. The Ukrainian company "Fort" got Israel's approval for making Tavor, Negev and Galil rifles.
In the city of Dnepropetrovsk in eastern Ukraine there is a military training school. Its website indicates that training there is provided former IDF officers and that its instructors were trained by Israelis.
The website has a photo of shooting practice with a Tavor rifle. It notes that the school trains units of the National Guard, whose members include Azov militiamen.
In May 2017 Ukraine's Prime Minister Volodymyr Groysman visited Israel and met with Defense Minister Avigdor Lieberman to discuss the arming of Ukraine's military forces.
In December of that year a man claiming to be a former IDF officer was interviewed by Ukrainian media, saying that he had taken part in battles in eastern Ukraine, where he was instructing soldiers. The Azov website also shows militia members using Tavor rifles.
All of this is unambiguous proof that Israel is exporting weapons to Ukraine, knowing that they reach right-wing militias, some members of which are avowed neo-Nazis who enjoy the support of the authorities.
The ministry of defense, as is its wont, refuses to address this issue, responding only in generalities without detailing the considerations underlying its decisions approving arms exports. It seems that in this case the public deserves a more detailed response, as do Ukrainian Jews the Israeli government supposedly claims to protect.
Even if these weapons are currently directed at Russians, one should take into account the reasonable possibility that in the future they will be used to achieve other goals, perhaps aimed at minority groups in the country. It will then be too late to halt the collaboration of the Israeli establishment with the murder of Jews and others. This will be one more chapter in the dismal history of using Israeli firearms in acts such as these.
Ukraine attacks journalists who reported Israeli weapons flow to its neo-Nazi militia
BEN NORTON·JULY 10, 2018
Ukraine's embassy in Israel attacked Grayzone editor Max Blumenthal by name, along with The Real News and Electronic Intifada, spreading false accusations after they reported on Ukrainian neo-Nazis using Israeli weapons.
Ukraine's embassy in Israel has attacked Grayzone editor Max Blumenthal by name and indirectly implicated this writer, Grayzone contributor Ben Norton, for reporting on Israel's arming of Ukrainian neo-Nazis.
While the Ukrainian government has falsely accused us of spreading "fake news," it has ironically spread fake news itself, incorrectly alleging that Blumenthal has been writing under the pseudonym "John Brown" — based on a "quick search on the internet."
The Ukrainian government has also denied that Israel has armed Ukraine's neo-Nazi militia the Azov battalion, even after Azov posted a video on its own YouTube channel showing it using unmistakably Israeli weapons.
On June 10, the Ukrainian embassy in Israel published an open letter to Aluf Benn, the editor-in-chief of the major Israeli newspaper Haaretz. Kiev condemned Haaretz for publishing a June 9 news report titled "Rights Groups Demand Israel Stop Arming neo-Nazis in Ukraine."
The Haaretz article was written by John Brown, a pen name used by an Israeli writer. The piece reported that more than 40 human rights activists filed a petition with Israel's High Court of Justice calling for an end to Israeli weapons exports to Ukraine.
The article is very similar to a report published on July 4 at The Electronic Intifada. That explosive exposé by journalist Asa Winstanley documented how far-right extremists from the neo-Nazi militia the Azov Battalion have been using Israeli Tavor rifles in the field.
Although the John Brown article in Haaretz repeated many of the same facts cited by Winstanley, Brown had also tweeted on July 3 — before the Electronic Intifada piece was published — that he had been working on a piece about the selling of Israeli weapons to neo-Nazis.
Blumenthal has reported on the plague of neo-fascism and Nazism in post-Maidan Ukraine for years; however, he did not write either of these stories.
Despite a total lack of evidence, Kiev decided to implicate Blumenthal in an intricate conspiracy, by pointing to an interview he conducted with me on June 6 at The Real News Network, in which we discussed how both Israel and the United States have armed neo-Nazis in Ukraine. (This was part of a two-part interview with Blumenthal; the other was on his video report on the US Congress inviting Ukrainian fascist Andriy Parubiy to speak.)
The fact is, John Brown and Max Blumenthal are not the same person. Yet this inscrutable nuance escaped the Ukrainian government, which immediately jumped to conclusions and accused Blumenthal of being the secret writer.
How did Ukraine come to this outlandish conclusion? According to its ambassador to Israel, Hennadii Nadolenko, it conducted a "quick search on the internet."
In his letter to the Haaretz editor-in-chief, Amb. Nadolenko pointed to the report in the Electronic Intifada (by Winstanley, not Blumenthal), as well as Blumenthal's interview with me at The Real News.
With his non-existent evidence in hand, Nadolenko concluded, "This suggests that Max Blumenthal is hiding behind the pseudonym of John Brown, attributed to the authorship of the mentioned article republished by 'Haaretz.'"
The Ukrainian embassy tweeted a copy of the letter, which it characterized as a refutation of so-called "fake news." Kiev also published it on the official Ukrainian embassy website.
This farcical attempt at connecting-the-dots surprised both Brown and Blumenthal.
For starters, the idea that Haaretz would even let Blumenthal submit such a piece is quite comical, given that the liberal Zionist Israeli newspaper has published dozens of articles maliciously smearing Blumenthal, and has printed lie-filled screeds attacking me as well.
Moreover, the Ukrainian embassy's insistence that "since 2014 there was no weapon supply to Ukraine from Israel, and in particular to Azov battalion, as well as no plans for such cooperation in the foreseeable future" is simply bizarre.
As Asa Winstanley noted in his report at the Electronic Intifada, the Azov battalion itself published a video on its official YouTube channel showing a member using two Israeli Tavor rifles. This is a uniquely Israeli weapon that, with its distinctively thick stock, cannot be confused for any model from any other country.
The language in the Ukrainian embassy's letter deserves careful examination, as it is in the twisting of language where Kiev attempted to conceal the shocking reality.
Ukraine insisted that "there was no weapon supply to Ukraine from Israel." But as Winstanley pointed out, "The weapons are assembled in Ukraine, but made under licences from Israel Weapons Industries, approved by the Israeli defence ministry."
Winstanley added, "Israel's interior minister Aryeh Deri met with Ukrainian interior minister Arsen Avakov last year — Avakov is well known to be the government funder and patron of the neo-Nazi militia Azov."
"The Ukrainian govt claims that I'm hiding behind the pseudonym 'John Brown' to expose how Israel is arming its neo-Nazi Azov Battalion," Blumenthal tweeted.
"They're correct that I'm a John Brown fan, but I do all my work exposing the Nazis in their ranks under my own name."
Is Israel trying to hide arms exports to neo-Nazi militias in Ukraine?
By The Seventh Eye, June 19, 2019
Human rights activists are hoping to use the courts to expose Israeli arms exports and security know-how to neo-Nazi militias fighting in Ukraine.
Photo: A soldier of the Azov Battalion mans a heavy machine gun on a patrol near Mariupol, Ukraine. (Carl Ridderstråle/CC BY-SA 4.0)
Is Israel knowingly selling weapons to neo-Nazi militias in Ukraine? A group of Israeli human rights activists filed a petition to the Tel Aviv District Court last June to demand the government halt weapons exports to the country, where armed groups have been engaged in fighting for the past five years.
In response, the state has asked that the court slap a gag order on legal proceedings surrounding the alleged sale of weapons and military knowledge to neo-Nazis fighting in Ukraine, and has requested the court tohold its hearing behind closed doors and present its arguments in an ex parte hearing.
The petition, submitted by attorney Eitay Mack on behalf of 42 activists, demands that the Tel Aviv District Court instruct the Defense Ministry official charged with overseeing security exports to rescind, either tentatively or permanently, the licenses granted for exporting weapons to Ukraine. The activists argue that these weapons serve forces that openly support a neo-Nazi ideology and cite evidence that the far-right Azov Battalion, whose members belong to Ukraine's armed forces, are using these weapons.
The Azov Battalion was established in Ukraine following the 2014 Russian invasion of the Crimean peninsula. It uses well-known National Socialists symbols, while its members use the Nazi salute and carry swastikas and SS insignias.
"It is well known that the State of Israel has a special commitment to the global struggle against neo-Nazis and anti-Semitism," the petition states. "Even if there is any interest in continuing Israeli security exports to Ukraine, the petitioners believe that the State of Israel cannot take the risk that Israeli weapons and training will be used by neo-Nazi and anti-Semitic soldiers."
The state's response included affidavits by top Defense Ministry officials, and rejected the petition out of hand, saying the judicial system has no say in matters of security exports. "The decisions regarding security export policy clearly fall under the powers of the executive branch, which are made on the basis of considerations that have to do with national security, foreign relations and international obligations while safeguarding the vital interests of the state," attorney Sarah Bello from the Tel Aviv District Attorney's Office wrote in the response.
But what are the vital interests of the state for which it decided to grant arms export licenses that may or may not end up in the hands of neo-Nazi militias? Both the Defense Ministry and Foreign Ministry have requested that the court hearing vis-à-vis these interests — or anything else relating to the petition — remain behind closed doors. The state says the reasons for doing so are "clear," yet it does not go into detail as to why, noting that the court had previously accepted the request for closed-door hearings on matters relating to security exports.
The state further argued that "the State of Israel's security export policy is subject to constant scrutiny and periodic assessments by the senior echelons of the Defense Ministry and the Ministry of Foreign Affairs, in coordination with other relevant bodies."
In response to the state's request, the petitioners said that they "oppose a request that hides more than it reveals." They argued that previous proceedings on the issue of defense exports were held in open court, even if the verdict remained confidential. The petitioners also argued that information that the state wishes to conceal in the gag order is published in the media anyway, and that the state itself repeats said information in non-confidential legal documents.
A soldier with the Azov Battalion seen holding an Israeli-made Tavor rifle.
The petitioners describe a redacted protocol that the state included in its request for a closed-door hearing. According to them, the lines that had been blotted out were "public statements written by the petitioners' counsel in a petition open to the public, and as stated, the petitioners have repeated them on every possible media platform."
The state clarified its reason for a closed-door hearing in a response to the petitioners' response, saying that the petitioners' arguments will also be prohibited from being aired in public, saying that a public hearing will lead to media exposure that does not fall under the full control of the state.
"The state's position that prohibiting publication is required also vis-a-vis the petitioners' arguments as part of the hearing is, inter alia, a result of the lessons of the past in which the arguments made by the petitioners' counsel were heard in an open-door hearing, and without the respondents being able to openly respond. These were published in the media, which mischaracterized and distorted the state's position."
According to the state, the petitioners' refusal to present their arguments in court — during which they would not be allowed to be exposed to the arguments of the other side — is evidence that their "real desire… has to do with the media." The response did not include any evidence to show that the Israeli media frequently deals with legal proceedings against arms exports and security know-how from Israel to foreign groups who commit war crimes, hold neo-Nazi ideologies, or serve dictatorships.
The Tel Aviv District Court will hear the petition next week on June 26.
This article was first published in Hebrew on The Seventh Eye. Read it here.
"The Seventh Eye is Israel's only independent media watchdog. Established in 1996, today it publishes daily media reviews, articles, op-eds, and investigative reporting aimed at exposing unacceptable journalistic practices, foreign interests in Israeli media, censorship and self-censorship, discrimination, and racism. The site's writers follow and document progress in the Israeli media world, from a resurgence of journalists' unions to exposing hidden 'advertorial' content, all with an aim of encouraging independent, fair and unbiased journalism."
'Why do you support Nazis in Ukraine,' Moscow asks Israeli envoy
i24NEWS, February 25, 2022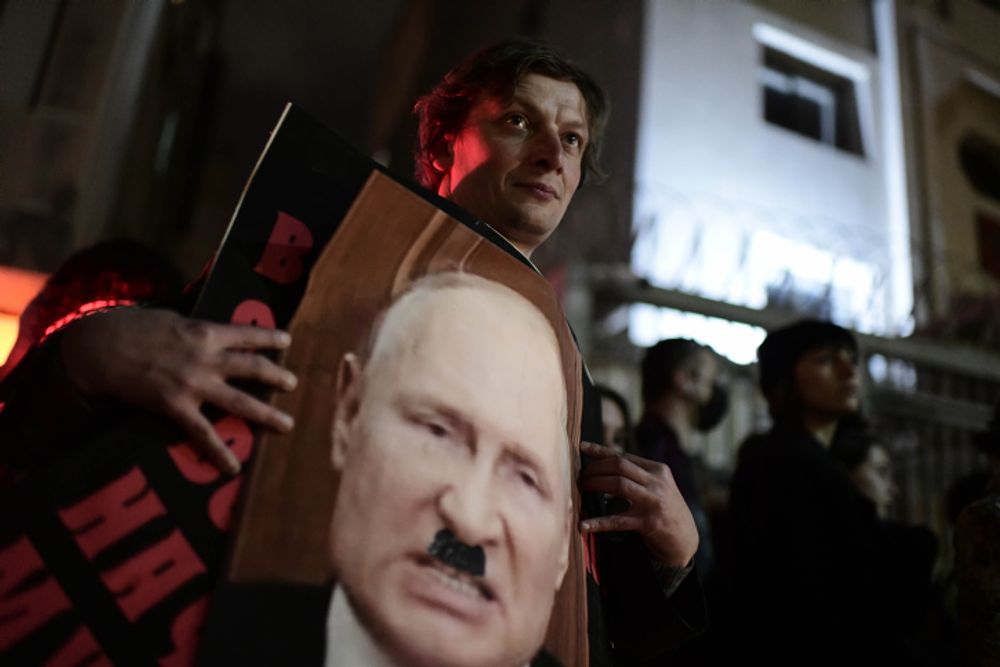 Moscow repeatedly claimed that its invasion was aimed at 'denazification' of the country
Russia on Friday summoned Israel's Ambassador to Moscow Alexander Ben Zvi to clarify Israel's position regarding the invasion of Ukraine.
Russian Deputy Foreign Minister Mikhail Bogdanov asked Mr Ben Zvi why Israel was expressing support for the "Nazis" in Ukraine, a day after Russian President Vladimir Putin said the "special military operation" would seek the "denazification" of its neighbor.
Moscow repeatedly claimed that its invasion was aimed at "denazification" of the country, whose President Volodymyr Zelensky is Jewish.
In a statement, the Russian Foreign Ministry said that Bogdanov "expressed the hope" that Israel would show understanding towards the reasons for the Moscow military campaign.
Earlier in the day, Prime Minister Naftali Bennett, in a phone call with Ukrainian President Volodymyr Zelensky, "offered Israel's assistance with any humanitarian aid needed."
In his first remarks after the assault on Ukraine began, Israeli Foreign Minister Yair Lapid condemned Russia's invasion as "a serious violation of the international order," but also stressed Israel's "deep, long-lasting and good relations with Russia and with Ukraine."
COVID, HITLER, BLM, THE GREAT RESET – MANY BRANDS, ONE CARTEL. AUSCHWITZ PERFECTED AND GLOBALIZED
ANOTHER ANGLE WITH SOME SOLID POINTS AND FACTS:
Ukrainians fleeing to Israel will transform overnight into settlers and colonisers
Middle East Monitor, 10 March 2022
Israel cannot be allowed to instrumentalise the Russia-Ukraine conflict in order to consolidate its 'demographic superiority' in historic Palestine
Passengers disembark from an airplane carrying Jewish immigrants fleeing the war in Ukraine, upon arrival at Israel's Ben Gurion Airport in Lod, near Tel Aviv, on 6 March 2022 (AFP)
Before the smoke could lift and the dead of World War I could be buried, the pogroms began.
Jews, wedged in a civil war that swept the Russian empire from 1918, were targeted in no less than 1,000 pogroms. They were blamed for World War I and the Russian Revolution of 1917. They were accused of hoarding food and wealth. They were harassed and beaten in their homes, sexually assaulted on the streets, and on hundreds of occasions, lined up and done away with.
By 1921, historians estimate that more than 100,000 Ukrainian Jews were killed. The pogroms against Ukraine's Jewish population had several consequences for Europe and world Jewry.
In his new book, In the Midst of Civilised Europe: The Pogroms of 1918-1921 and Onset of the Holocaust, published by Metropolitan Books, Chicago-based historian Jeffrey Veidlinger argues that the feverish violence inflicted upon Jews in Ukraine during the early 1920s set a precedent for the brutality of the years that followed.
The long history of Jewish persecution in Europe notwithstanding, the brazen violence against Jews in the pogroms after World War I was a bellwether for the Holocaust to come two decades later under Nazi Germany. In other words, the state-sanctioned mass murders under Adolf Hitler were primed by several smaller massacres at the hands of ordinary people and the armies fighting the Bolsheviks.
The pogroms against Ukrainian Jews, however, had another knock-on effect.
A Jewish homeland
They nourished the urgency of creating a Jewish homeland, which had become an immense probability following the British takeover of Palestine from the Ottomans during World War I.
Ukrainian refugees in Israel, the same people who only just escaped war, hunger and foreign occupation today, will transform overnight into settlers and colonisers
The Balfour Declaration of 1917, Sumaya Awad and Annie Levin write in Palestine: A Socialist Introduction (Haymarket Books), was "the first official recognition of the Zionist settlements". British support for a Jewish homeland precipitated the transfer of thousands of Jewish migrants to British-occupied Palestine.
Between 1921 and 1923, some 40,000 Ukrainian Jews made their way to Palestine as settlers and colonisers.
The arrival of Jewish refugees perpetuated tensions with native Palestinians, who saw their land being ripped out from under their feet. It catalysed a series of skirmishes between the two communities, none better known than the Jaffa riot of 1921, in which 48 Palestinians and 47 Jews were killed.
Zionism, like other settler-colonial projects, was predicated on the dehumanisation of indigenous Palestinians. To the Jews who had fled Ukraine and elsewhere, Palestine was theirs, and therefore empty – and where it was populated by Palestinians, it was bereft of civilisation.
Veidlinger writes that Ukrainian Jews erroneously drew parallels between Palestinian resistance to the colonisation of their homes and the persecution they experienced back in Europe.
"Despite the numerous differences between the riot in Palestine and the pogroms of Ukraine – not the least of which was the high Arab death toll, which signalled a lethal brawl more than a pogrom – the notion that the violence in the Holy Land was just another pogrom established a myth that came to define the right-wing of the Zionist movement," Veidlinger argues.
With the onset of Nazi Germany in the 1930s and then World War II, Jewish migration to Palestine became ever more "urgent", even as other countries, such as the US, restricted Jewish immigration.
The Nazis killed an estimated 17 million people, including Jews, Russians, Poles, Roma, gay people, people with disabilities, among others. And even though, according to the Israeli daily Haaretz, Zionists had cooperated with German Nazis, the Holocaust became the most important attestation of Israel's legitimacy.
"The Nazis had killed six million Jews, and the Zionist leadership, with [David] Ben-Gurion at its head, saw a unique opportunity to exploit Jewish suffering for the purpose of gaining world sympathy for the establishment of a Jewish homeland," wrote Australian journalist Anthony Lowenstein.
Jewish Ukrainian refugees 2.0
Within days of the Russian invasion of Ukraine in late February 2022, little more than a century after the pogroms in Ukraine, the Israeli government invited Ukrainian Jews to make aliyah, or to fulfil their migration to the Holy Land.
The West is right to hold Moscow to account for its crimes, but what about Israel?
They called it "Operation Israeli Guarantees" (Arvut Yisrael), based on Israel's Law of Return, which guarantees Jews from any part of the world immediate citizenship based on their religion.
As was the case during World War II, it isn't just Jews who are facing the calamity of war in eastern Europe. All of Ukraine's 44 million people are facing an existential threat, as Russian forces invade via ground troops and terrifying air strikes.
Within 12 days, more than two million Ukrainians became refugees. "We call on the Jews of Ukraine to immigrate to Israel – your home," said Israel's Ministry of Aliyah and Integration. Likewise, Prime Minister Naftali Bennett described the state of Israel as "a refuge for Jews in distress".
"This is our mission. We will meet this sacred mission this time as well," Bennett said.
On cue, the World Zionist Organization's settlement division said it would be building temporary homes for those who chose to make the journey. Likewise, Pnina Tamano-Shata, Israeli's immigration and absorption minister, said the fate of Jews in Israel and Jews in the diaspora were "intertwined".
"When the government decision passes, the members of the settlement division are prepared for its immediate execution," said Yishai Merling, chairman of the WZO's settlement division.
He added: "The ongoing fighting in Ukraine and the uncertainty require the State of Israel to prepare in accordance with the absorption of immigrants from Ukraine. Israel needs to take responsibility for the Jewish communities living there. This is what Israel did in the past, and this is what the Jewish state should do today."
From refugees to settlers
At last count, at least 467 Ukrainian Jews had made the journey to Israel, as their compatriots had done a century ago.
These Ukrainian Jews, escaping war and chaos in Ukraine, will now be given shelter, food and protection, and asked to live on land taken from Palestinians
Estimates vary, but according to several sources, there are around 40,000 people in Ukraine who consider themselves Jewish, including President Volodymyr Zelensky. There may be four times as many with Jewish ancestry and, therefore, eligible for aliyah.
Israeli Interior Minister Ayelet Shaked said this week that around 100,000 Ukrainian Jews could make their way to the country and become citizens.
Ukrainian Jews, escaping war and chaos in Ukraine, will now be given shelter, food and protection, and asked to live on land taken from Palestinians. Some will eventually live on recently stolen land, known as illegal settlements in the occupied Palestinian territories, in violation of international law.
According to the WZO's settlement division, the new arrivals will be placed in settlements in the occupied Golan Heights, the Negev, Arava, the Valley of Springs, and the Jordan Valley.
Already, families have moved into Nazareth Illit (now Nof Hagalil), on land stolen from the nearby town of Nazareth in the 1950s, as part of a larger attempt to "Judaise" and suppress Palestinian development and growth in the region. At the time, the area was made up predominantly of Palestinians.
Others will potentially move into previously stolen land built on the villages ethnically cleansed when Israel was created in historic Palestine in 1948. Around 750,000 Palestinians were expelled in 1948 to make way for the state of Israel.
And like their predecessors who arrived a century ago, they will come to imbibe the Zionist belief that the land was empty; that the Palestinians expelled in 1948, around five million of whom are still languishing in refugee camps, or who are living in different parts of the world and unable to return to their homes, or who are living as prisoners in blockaded Gaza, are threats to their existence as Jews.
No humanitarian gesture
In other words, the same people who only just escaped war, hunger and foreign occupation today will transform overnight into settlers and colonisers. They will simply slot into Israel's system of institutionalised segregation and discrimination, known as apartheid.
Make no mistake: ordinary Ukrainians are paying the price in a war between two frail empires struggling for dominance and relevance.
But even in this moment of global emergency, in which immediate actions must be taken to save civilian lives in Ukraine, there is absolutely no reason that Palestinians should also be made to bear the costs of this conflict.
Absorbing Jews from around the world is not a humanitarian gesture by Israel; it is a strategic policy. It reinforces Israel as a Jewish homeland.
Israel cannot be allowed to instrumentalise the Russia-Ukraine conflict to populate Palestinian land with more Jews, in order to consolidate what Lana Tatour, professor of settler-colonialism and human rights at the University of New South Wales in Sydney, describes as "demographic superiority".
But then, a century on, who are we even fooling?

Israel has survived and thrived as a settler-colonial state, and built its legitimacy and credibility as a liberal democracy despite its racist policies, because Britain, France and the US in particular have never recognised Palestinians as relevant, or human, in the first place.
"Syrian President Bashar Al-Assad said in a March 17, 2022 address in honor of Syrian Teachers' Day that aired on Al-Ikhbariya TV (Syria) that the West does not have any principles and that it only cares about world domination and material interests. Explaining that the West's only enemies are those who stand in the way of its interests and that the West and Zionism are not fundamentally opposed to Nazism, Al-Assad gave the example of how Zelensky is a "Zionist Jew," yet he supports Ukrainian Nazi groups. Al-Assad said that this is ironic considering that "Zionist Israel" claims to cry over the victims of the Holocaust." – Memri Tv
GO DEEPER DOWN THE RABBIT HOLE:
COVID, HITLER, BLM, THE GREAT RESET – MANY BRANDS, ONE CARTEL. AUSCHWITZ PERFECTED AND GLOBALIZED
"Bro, do you even unholy alliance?"
With the help of Yaacov Apelbaum, from the illustrated Primer, we know that Ukrainian Neo Nazis were at the Capitol on the 6th as well. One noted member of the fascist group who refers to itself as the Zhidobanderites, Sergai Dybynyn, was photographed at the Capitol with the man known as Jacob Anthony Chansley (see above). Sergai was also in the Ukrainian army and is wanted for horrible crimes in his past.
Another member of the Zhidobanderites is a wealthy Ukrainian, Ihor Kolomoyski.
We wrote about Kolomoyski in 2019 related to his connections with Burisma. He's also a media giant in Ukraine.
The day after the riot at the Capitol the Ukrainians reported that Russia was behind the effort because they supported President Trump. They also proved that they were at the Capitol and were using techniques like Antifa in storming the Capitol. The 'Russians' were Ukrainians.
Below is a composite of the events from Apelbaum.
To be continued?
Our work and existence, as media and people, is funded solely by our most generous supporters. But we're not really covering our costs so far, and we're in dire needs to upgrade our equipment, especially for video production.
Help SILVIEW.media survive and grow, please donate here, anything helps. Thank you!
! Articles can always be subject of later editing as a way of perfecting them